GET READY FOLKS!
THE CHURCH GARAGE SALE IS BACK.
On June 25 we are having a garage sale to help raise funds for the church.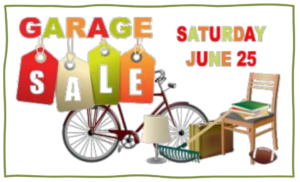 Please bring your donations to the church on Wednesday, Thursday or Friday on the week of the sale (June 22, 23, 24).
We also ask that you not donate clothing, large pieces of furniture or fitness equipment.
If you are unable to deliver your goodies to the church contact me at
howa[email protected] and I will arrange to have them picked up.
If you would like to help with the setup or work during the sale, please let Sue know at the church office.
LEF will be selling coffee and doughnuts during the sale, so if you would like to help out in that area, please let Lynda Gaudiuso know.